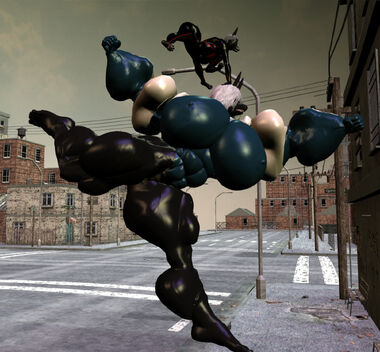 The
Ienepu Sisters
(
D'enekai "Alpha" and Osiru "Omega"
) are the sisterly duo known for their prowess and unstoppable might. They are two thieves/enforcers-for-hire that go travel across several systems for anything they need to survive while on the run from both Solterran and Anubian authorities for their crimes. They have made a name for themselves for many activities ranging from high-stakes robbery to causing major disruption across many nations which have earned them high ranks in many most wanted listings.
The origins of these two are different than the normal base. Usually the mastermind of the duo falls on D'enakai but she is a also the protector of her little sister Osiru who in her eyes is a young child possessing the body of an enormous and unstoppable titan. Their "crimes" are really a means to survive and for D'eneaki to protect her sister from the rest of the world that will come for her first. They do have regrets for their actions and they do not consider themselves villains but not that it makes a choice for as a result of a catastrophic event on their homeworld caused by Osiru's inexplicable rampage.
These characters are going the be the planned antagonists for the second book of the series, Protectorate.
D'enekai Ienepu
D'enekai "Alpha" Ienepu

Credits: Angel Uriel

Species

Obsidian Anubian Jackal

Affiliation

N/A

Universe

A'skamet City-Lower
Anubian Empire

First Appearance

Alpha and Omega

Abilities

High endurance
contortionist abilities
Master thief and Escapist
She is the elder sister of Osiru and the "brains" of the duo known as "Alpha and Omega" known for her fast mind, special talent in espionage and infiltration along with her "seductive" prowess, mostly attributed to her massive breasts and voluptious figure.
D'enekai "Alpha" Ienepu
D'enekai Ienepu is the elder sister of the massive juggernaut Osiru Ienepu and the "brains" of the outfit of the sister team Alpha and Omega. Noted for her fast mental calculations in picking digital locks, special means of espionage and infiltration for her "seductive" prowess mainly attributed to her massive bust line and her advanced martial arts and contortionist skills. She makes her appearance alongside with her sister in the premiere episode Alpha and Omega in the first season of Protectorate committing what would be a grand plot. D'enakai has a deep maternal instinct towards her mighty little sister after the death of her parents at a young age. Both of them are on the run from the Anubian High Guards as a result of Omega's rampage in the capitol city and she was the only one who can stop her. Both she and Omega work together but often at times they do come into conflict on moral grounds if what they are doing is seriously for their own survival.
Character Biography
Coming soon
Other Data
Coming Soon
Osiru Ienepu
Osiru "Omega" Ienepu

Credits: Angel Uriel

Species

Obsidian Anubian Jackal

Affiliation

N/A

Universe

A'skamet City-Lower, Anubian Empire

First Appearance

Alpha and Omega

Abilities

Super strength
Nigh-invulnerability
God-like stamina and endurance
Osiru Inepu is the younger sister of D'enekai and the total brawn incarnate of the on-the-run duo. She is noted. thanks to her sister for her headstrong tactics, incredible agility for a woman of her size and power and a threatening appearance, despite her young and somewhat less mature demeanor.. In the beginning of Protectorate she takes on a minor role under the orders of her smaller but sensual sister. But soon will develop overtime as the main character into the end of book two and into Interinfinite.
Character Biography
Osiru is born as the younger sister after D'enakai in a small lower class clan and in her earlier years was often teased and pushed around by her older sister until the age of ten when she started to develop explosive amounts of muscle mass and size faster than anyone on the planet many often challenge her power greatly with results moving to her favor. No one could explain how she started to gain such power by the time she reached her teens. Osiru the tallest and strongest being in the Anubian Empire even against the mightiest males This lead to an opportunity for her to take a shot at joining the ranks of the most powerful protective force: The High Guards.
Her strength and durability didn't give their most rigorous tests a chance. Ether they were destroyed or a ballistic shell shatter against her breasts. Hope seems great for her until for unknown reasons, she was denied and expelled from the service when she demanded an answer they responded that she was too powerful for them to work with.though it was secretly a lie with more devious intentions. Several months later the capitol city was terrorized by a massive being tearing through the city and their best weapons and warriors were powerless to stop it. It was Osiru on a rampage with glowing red eyes fighting with mindless brute strength.
D'enakai did what she can to snap Osiru out of her rampage even fighting against her though it would prove a futile battle. Suddenly Osiru came back to normal with no memory of what she had done but that didn't stop the authorities and a furious emperor from wanting her head. But during the transport the convoy was ambushed by D'enakai and she freed her sister and ran, They have taken a local star ship and left the planet dodging anyone who would catch them.
They are now both on the run. When D'enakai confronted Osiru she honestly believed that someone else controlled her and doesn't remember anything except for what happened afterward. They try to make ends meet by committing small crimes but Osiru now with better control of her own powers aimed for the tougher tasks where she cam be used as a ram, shield or unstoppable brute. Osiru survives as much as she can with the Empire on their tail and her sister at her side despite being powerless.
Protectorate
Making her first appearance along with her sister in Alpha and Omega, Kiarmaru has trouble getting through them. Their reason for being in Solterra is to challenge to take on robbing the nation's richest banks which was proven when Omega ripped out a 300 foot tall, 40,000 ton safe door to the horde reserve. Kiarmaru manages to defeat Alpha and as for Omega she managed to get away by her sister's orders despite her efforts to get her sister free and avoid capture at the same time.
With her sister captured she understands why she can't be caught for if they do they will turn her over to the Empire for which she'll be executed for. In the final part of Washington Brawl, Xendrian knows where Omega is in order to help him find a way to take down his clone. It involves her taking down a massive building complex which was objected by many people. After the plan succeeded, Maranmore offered Omega to take a off-record full presidential pardon for their help in stopping the clone and take refuge from the Prime universe as the Anubian Empire still want Osiru's head. She and her sister accepted the pardon and have taken permanent refuge in the Prometheus Universe never to return again.
Interinfinite
Osiru plays a major role into why she was given such great power and more importantly to the reason why D'enakai was too controlling towards her though it was long revealed after her death that it was an outside force that controlled Osiru which led to the destruction of the Capitol city by a enemy of the Empire who sought opportunity in her then vulnerability-in-youth to destroy and place the blame on her. Discrediting King Anubis and placing him in power after wiping her out. D'enakai's reason was clear that she is the only one who can protect her from two of her greatest enemies: Those who can control her or worse, herself even at the cost of her true potential.
She is now alone thousands of years into the future her body and mind matured and grew more powerful with personal realmengine with her she is free to wander the multiverse as a hero rather as a villain often ending massive conflicts sometimes being posed as a goddess of strength but her true purpose will soon be revealed when in her dreams the great goddess Gaia approached her to explain her role in the grand scheme of events. She was never meant to be a hero or villain or anything for that matter her purpose was that of Guardian and "ultimate being" a living emergency vessel for all the knowledge of the multiverse when it ends. She proved that after the Ninth Dimensional Cataclysm.
The news distraught her at first because she felt as all of this was a curse but it wasn't as Gaia explains further her deeds in the past millennia has given her purpose that she created what she requests of her is a charge for the care of an unknown being who has wandered the multiverse since the disaster. Which soon comes into conflict with the Guinevere Maranmore and Lady Charlemagne who are set out to find and send her back or destroy her because of the darker forces who will use her to destroy the multiverse.
Other Info
Is known to have an insensible addiction for destroying large buildings.
The Imperial High Guard position she took on was the rank of captain before she was ejected because she became much more of a danger to her team then in any battle situation.
Unlike other universes where in those worlds; Great, muscle-bound beings of incredible power walk alongside the normal population, Omega is the Prime Observable's only recognized superbeing because in that universe, there are many others like her, but they do not make themselves known.